Origin of Indian art form and paintings can be traced back to the Indus valley civilization. Stone sculptures, cave paintings and ancient-Persia influenced wooden carvings were dominant in pre-historic India. The arrival of various religions like Buddhism with Mauryan Empire, Islam with Muslim kings and invaders and especially the Mughals shaped the facet of Indian culture and gave rise to a variety of new art forms that came to known as Indian art forms. Some of these art forms were influenced by Turkish, Persian and Mesopotamian styles, while some of them were truly original and authentic like Rajput, Mysore paintings, Pattachitras, Indian pottery work, stupas and pillar carvings.
Even in the modern times, the art forms of pre-contemporary era continue to dominate the current art scenario and have drawn the attention of a lot of art aficionados and enthusiasts towards themselves because of their sheer aesthetics and rich cultural and religious influences. They are the true representations of Indian history and are studied till date to understand the glorious past of India and various Indian dynasties. Exquisite Indian art can be classified into following categories for the ease of understating of a layman.
Indian Wall Murals:
Murals are the huge artwork done on the walls of monuments and other structures. They can be called somewhat the ancient equivalent of modern day graffiti. Indian murals can be traced back to the artworks done on forts and residencies of kings and rulers depicting their exploits and day to day living culture of their kingdoms. They had become a popular medium of storytelling through paintings. Indian murals also include cave paintings. Most famous example are Ajanta caves in Maharashtra. Murals of Ajanta caves depict Jataka stories and are the one of the finest examples of picture galleries of the ancient world.
Miniature Paintings:
They are just like murals, but drawn on small medium such as books, paper, cloth and garments. The earliest surviving Indian miniature paintings are on palm leaves. They belong to 10th century and some of the paper paintings belonging to 14th century AD. The advent of Mughal empires saw an increase in rise of miniature paintings. Artists would paint the court scenes, hunting parties, landscape, and day to day life of Mughal emperors. Many religious manuscripts and drawings of Hindu mythologies were depicted though miniature paintings.
Mughal Art Form:
Mughals changed the face of Indian art as they brought Islamic influences with them and it can be seen through various monuments, structures and architectures they erected through the north India. They were a unique blend of Indo, Persian and Islamic style. Red fort, and Humayun Tomb, in Delhi, Taj Mahal in Agra, Buland Darwaza in Fatehpur Sikri and Shalimar Bagh in Kashmir are some examples that depict Mughal dominance throughout the 16th, 17th and 18th century.
Tanjore and Mysore Paintings:
These paintings originated under the Chola rule of south Indian dynasty. They mostly depict Indian mythologies, gods and goddesses. Mysore paintings were done on paper and somewhat more subtle, while Tanjore paintings were made on cloth and wood. Framings of these paintings were intricate and beautiful and used limestone with metal works such as gold and silver.
Madhubani Paintings: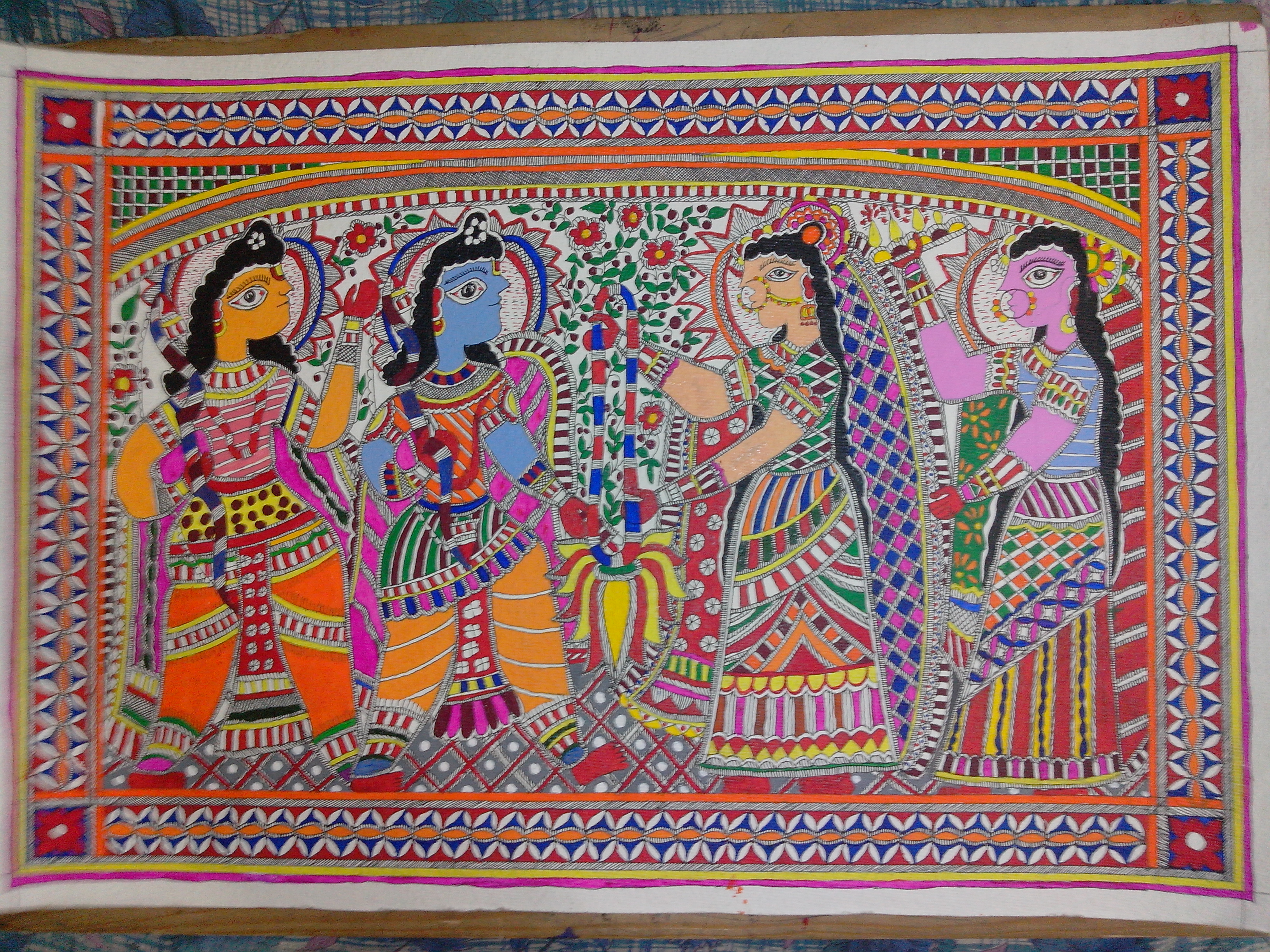 Madhubani style, formerly known as Mithali style of painting originated around the times of king Janak in the region of Bihar and Nepal. These paintings were done using natural colors and dyes with twigs, figures and wooden pens. They depicted festivals, birth, marriages and various occasions using bright colors and spectacular geometrical figures.
Pattachitra:
Pattachitra literally translates to "cloth pictures" in Sanskrit. They originated in Odisha and depict stories of Hindu gods especially Lord Jagannath. Originated in 6th century in the Vaishnava cult, they gained popularity again during the Bhakti movement of 16th century.
Folk and Tribal Art:
Pottery, toys, jewelries, metalwork, canvas paintings, weaving, paper art and other designing art forms were practiced by various Indian tribes and folks and are till date in existence. Ceremonial masks, texts, scripts, weapons and even body paintings depict various beliefs of different cultures and help the scholars to get a better understating of various tribes and ethnic groups of Indian subcontinent. Stone work, Nakkashi art form and cherial scroll paintings are famous examples of Indian tribe and folk's art form.
Each Indian state has its own culture and art form. This makes India one of the most diverse and culturally rich countries when it comes to art and paintings. Ministry of culture along with the involvement of Archeological Survey of India makes sure that various ancient Indian artworks do not die with the time and are made available to art enthusiasts around the world for study and research purposes. It also provides monetary support to the individuals and organizations that are involved in keeping pre historic art forms alive and relevant.