The car is over one hundred and fifty years old, and it seems to have everything onboard you can imagine. Turbocharging, direct injection, active suspension, stability control, climate control, adaptive cruise control, keyless access, blind spot monitoring, light and rain sensors, heated seats and steering wheel, and much more.
Manufacturers are committed to making driving a hassle-free experience. Now you can easily hire 9 seater van Bournemouth or somewhere else and have a great family trip without worry, because the smart technology of a modern car will do everything for you.
Yes, the fantasy of engineers works without stopping. We have compiled a shortlist of innovations that have appeared in the car relatively recently. Nevertheless, they are very important in terms of ease of driving…
Automatic emergency braking system
"I got distracted and crashed into the rear bumper" is a typical scenario of a huge number of car hire accidents around the world. For example, in Germany, a quarter of all accidents of varying severity, accounted for by such scenarios, and in the USA – even a third. Therefore, automakers have been moving towards the implementation of autonomous emergency braking (AEB) since the late 90s.
Today, you can find these systems not only in premium, but also budget models. For example, Kia Ceed, Volkswagen Polo and similar. Firstly, cars are becoming more affordable, allowing everyone to at least hire a car for the desired period. Secondly, since 2014, the EuroNCAP committee has been conducting AEB tests and taking their results into account when determining the safety rating.
The systems themselves have become much smarter and more perfect, and their work is most often based on a complex of frontal radar and a camera located under the windshield. The speed range has expanded, performance has improved, and cars have learned to react not only to cars, but also to pedestrians, cyclists and even large animals, as well as automatically stop in front of an obstacle when reversing.
There is no doubt that in the future AEB will become even more capable, but this is still not a reason to be distracted while driving.
Would you like to hire a car with autopilot on board for your upcoming trip? Of course, that would be great, but this is not about fully autonomous driving. It's all about smart adaptive cruise control with a steering function in the lane, aka autopilot.
It all started with Mitsubishi and Toyota equipping some of their models with lidars to control the distance, then in 1998 the Mercedes S-Class W220 showed the world's first adaptive cruise control.
At the same time, lane keeping assistants also developed, and already in 2003, the Honda Inspire learned to steer on its own, activating the electric power steering, in order to avoid going beyond the lane followed by the camera.
Now, technology has gone far ahead. The newest Super Cruise autopilot on the Cadillac CT6 allows you to even take your hands off the steering wheel. The novelty uses a special camera aimed at the driver.  So, he or she is not distracted from observing the road. Such an autopilot is an excellent assistant on a long journey.
Matrix and laser headlights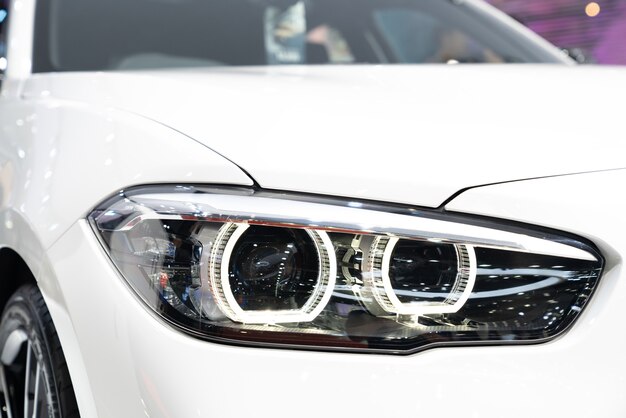 When you drive car hire through unfamiliar terrain at night, you would like to see a little more than standard headlights allow. The better the road is lit at night, the easier and more enjoyable it is to drive. It's especially great if the headlights can work in high beam mode even when there are several passing and oncoming cars. This is possible with the high-resolution matrix headlights, which first appeared in 2013 on the updated Audi A8.
Laser headlights are the next step in automotive optics technology. It's more correct to call the laser high-beam light laser-phosphor. In fact, in such headlights the laser hits the phosphor plate, which is the true light source. 
For the first time, headlights with such an innovation appeared in 2014 on the Audi R8 LMX and BMW i8. They managed to double the lighting range – from 300 to 600 meters. The laser high beam activates  automatically from the speed of 70 km/h in low beam conditions and if there's no risk of dazzling other road users.
In addition to the listed technologies, other innovations have appeared relatively recently. Thet include driver fatigue monitoring, reverse parking assist, all-round visibility with the ability to create a 3D picture. Also feature doors with electromechanical locks, and cameras instead of side mirrors.
So, science is advancing and we will soon see more useful technologies to make driving easier.